| | | |
| --- | --- | --- |
| | | |
Play Time
What's the LiteBrite camp doing at Burning Man this year?
2002 is a banner year for the LiteBrite camp! Not only are we bringing back the LiteBrite for playa folk to play on, but we've also got a styling art car, Aqua the Sea Camel, and we're setting up a 60' diameter tent that will house oh so very much: sound, style and the sea!
***You can find us in the 90o plaza located off the Esplanade.***
"The Floating World" is the Burning Man theme for 2002 and the LiteBrite camp is playing along beautifully. Our art car is a fitting chariot for any Mer-person. We can't wait to be seen around the undersea world of Burning Man in our own sea-vehicle. If it isn't out on the playa, then you'll find it parked in front of our mammoth tent of "Decadence Through the Ages." Decadence is the key word. You'll find it in the music of our camp DJs and in the myriad of our camp creations: Moroccan flair, blacklight delight, Lucy in the sky with diamonds, and a giant robotic octupus wanting to be fed are all waiting for you to come inside and play.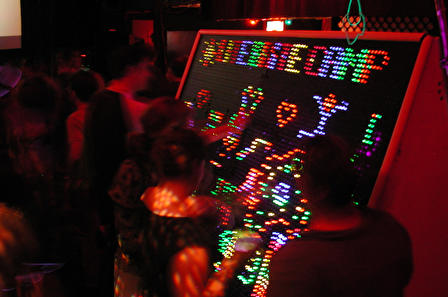 Saturday Aug 10th, 2002 - 10pm til 4am

Who and What Was There?

DJ Dervla - funky break beats that got the party started
DJ Dragn'Fly - tribal techno with trance & dark NRG primetime
DJ Douglas Butler - chill grooves for your late-nite pleasures
DJ Residents - DJ Fubari, Jelo, and Greg Goodwin

The Lucinda Lounge - sky blue soft clouds and the orgasmatron
The Blacklight Lounge - dazzling trippy treats for magic glasses

The Giant Lite Brite - fantastic art was made for everyone to see
Aqua the Sea Camel - the glowing underwater mermaid mobile
Temporary Tattoos - decorating bodies with our lickable tats
Ziggy The Dancing Robot - if you were lucky you got to boogie with him!


Click here for amazing photos of this event, compliments of Camera Girl!







More details of our adventures past, present and future to appear here!








All images copyright to the respective photographers.
LiteBrite is a Burning Man Theme Camp dedicated to peg art, high-tech partying and worship of all things LiteBrite. Come and play with our giant Lite Brite on the Playa and throughout the Bay Area...
LiteBrite Lite Brite Light Bright LightBright Peg Art Burning Man interactive art bay area party